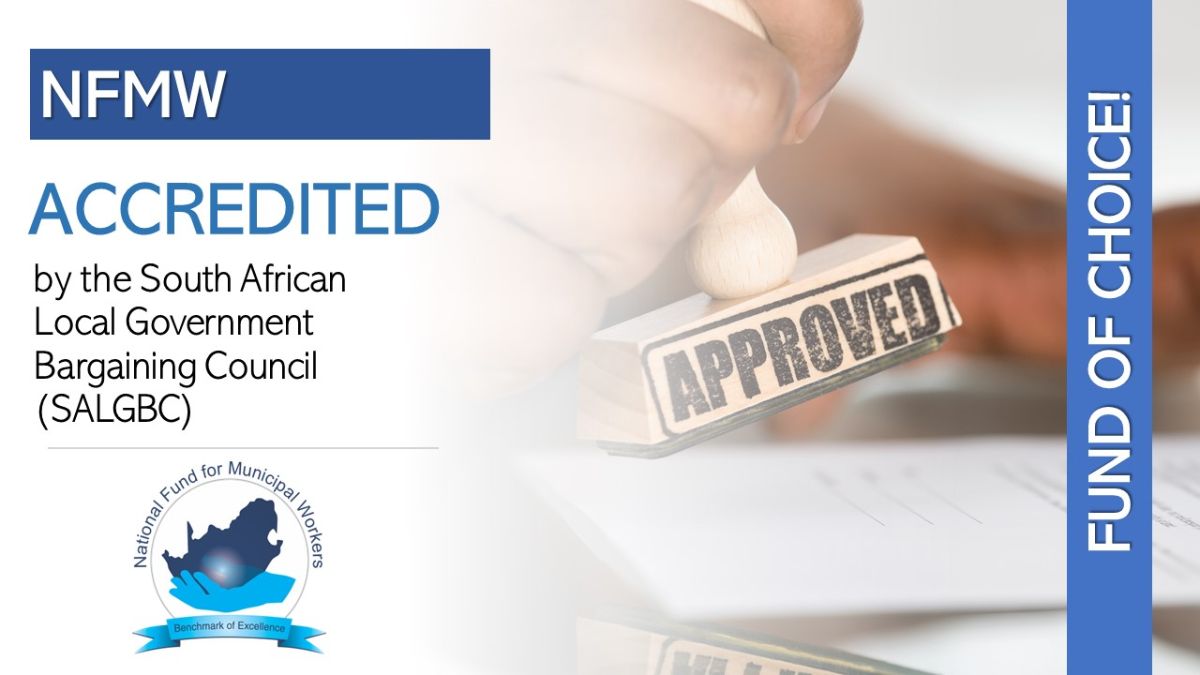 Dear NFMW-member,
As previously communicated, all Local Government funds, including the NFMW, were required to undergo an accreditation exercise to ensure that they comply with the criteria as set out by the South African Local Government Bargaining Council (SALGBC) as part of the Rationalisation of Local Government Retirement Funds-exercise.
The SALGBC recently issued communication, confirming that the NFMW received accreditation and will therefore be one of the funds offered to employees during the upcoming Freedom of Association (window period), which the SALGBC also confirmed, will take place from 1 July and close on 31 December 2022.
We are very pleased with this outcome as the NFMW has always been in support of members being given the option to belong to a fund of their choice. This also means that those employees wanting to join the NFMW, will be able to do so during the window period.
The NFMW's accreditation also means that existing members can remain with the NFMW and continue to benefit from the Fund's superior value proposition, knowing that their Fund is properly governed, has competitive costs, has an excellent record of investment performance, and communicates well to its members. This is the NFMW's opportunity to grow in membership and assets, resulting in a further reduction in costs, improved benefits and even better returns for our members.
We are currently awaiting further communication from the SALGBC on the proposed set of guidelines for the window period, which will include the process to be followed by each fund. We will be sure to share this with you as soon as it is communicated by the SALGBC and as always, keep you updated on any new developments. Also be on the lookout for dates and times of visits and sessions to the respective municipalities in the upcoming weeks.
We wish to again urge you to share this communication with your colleagues in the municipality, who may not have received the information pertaining to the window period. They can also start benefiting from economies of scale, good governance, excellent investments and competitive benefits which all lead to better retirement outcomes, by joining the Fund of Choice in Local Government!
---
ONLY A MEMBER OF OUR 2% (CATEGORY A) FUND?


Great news! You will also have the opportunity to transfer from your current fund to the NFMW's Main (Category C) Fund during the window period. This means you will receive all the communication and services you have become accustomed to AND all the benefits our Main Fund has to offer!
SUBMIT YOUR INFORMATION BY SCANNING THE QR CODE, E-MAILING JOIN@NATIONALFUND.CO.ZA OR BY CLICKING HERE!

THE NFMW IS THE FUND OF CHOICE IN LOCAL GOVERNMENT!
Best regards

Mr Leslie Ndawana
Principal Executive Officer.